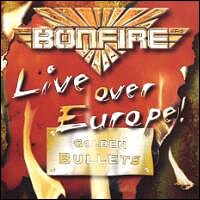 Live Over Europe!
Daytona Nights
Don't Go Changin' Me
Bang Down The Door
Hot To Rock
Don't Touch The Light
Sweet Obsession
Down to Atlanta
Proud Of My Country
Heat In The Glow
Who's Foolin' Who
Goodnight Amanda
Under Blue Skies
American Nights
Sweet Home Alabama
Strike Back
Good Time Rock N' Roll
Until The Last Goodbye
Ze German's with their rebel fixation finally release live versions of their odes to the American south. It's a decent collection of their newer songs with a couple of Fireworks/Don't Touch The Light songs sprinkled in. johnk5150.
"I fear the fire, calling down below. A dark desire, as it tears through the flesh of my soul. And there's a feeling, hiding deep within. It's always fighting to bleed my heart when temptation begins."
© 1998 - 2022 RATHOLE.com