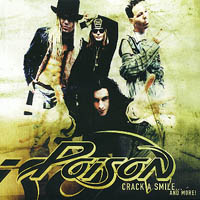 Crack a Smile... And More!
Best Thing You Ever Had
Shut Up, Make Love
Baby Gets Around a Bit
Cover of the Rolling Stone
Be the One
Mr. Smiley
Sexual Thing
Lay Your Body Down
No Ring, No Gets
That's the Way I Like It
Tragically Unhip
Doin' as I Seen on My T.V.
One More for the Bone (Outtake from Crack a Smile)
Set You Free (Outtake from Crack a Smile)
Crack A Smile (unfinished demo)
Face The Hangman (Outtake from Open Up and Say... Ahh!)
Your Mama Don't Dance (live unplugged)
Every Rose Has It's Thorn (live unplugged)
Unskinny Bop (live unplugged)
Talk Dirty to Me (live unplugged)
This CD has not yet been reviewed.
"...I love it, -loud, I wanna hear it loud, right between the eyes, I love it -loud, I wanna hear it loud, don't want no compromise..."
© 1998 - 2023 RATHOLE.com