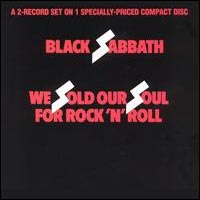 We Sold Our Soul For Rock 'N' Roll
Black Sabbath
The Wizard
Paranoid
War Pigs
Iron Man
Tomorrow's Dream
Fairies Wear Boots
Changes
Sweet Leaf
Children Of The Grave
Sabbath Bloody Sabbath
Am I Going Insane (Radio)
Snowblind
N.I.B.
This CD has not yet been reviewed. If you would like to add a review, click here.
"Time's come and gone since I saw you last and these feelings I have never felt in the past and I know, I can't hold on forever..."
© 1998 - 2021 RATHOLE.com